SEGUR LE CHATEAU.....BEAUTIFUL IN ALL SEASONS...A GLIMPSE OF DAYS GONE BY
Segur Le Chateau is a perfect place to enjoy the Correze region of the Limousin or the adjoining
regions of the Haute Vienne and Dordogne.
Hills and Valleys, Lakes and River, Towns and Villages, Chateaux and Gardens...
Nestled in the heart of a valley it is classed as one of the most beautiful villages in France..
( PLUS BEAUX VILLAGES ) ...and steeped in history.
The beautiful buildings are clustered around the ruins of the castle which looms over the village.
The river Auvezere meanders its way through the village, under three bridges and around the castle.
Quiet and magical in the winter and autum, it comes alive in the summer with markets and festivals , and flowers tumbling over balconys railings and windowsills.
Also delicious local delights..a real treat to visit.
There is also a Post Office and Tourist Office to help you plan your holiday days out.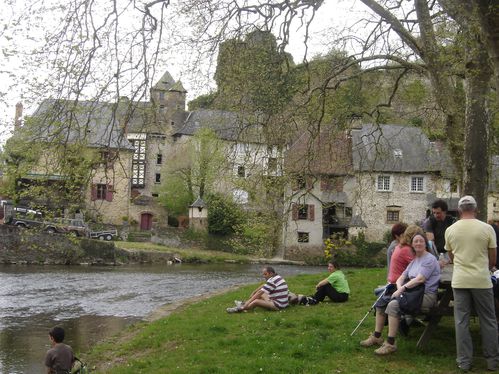 RELAXING BY THE RIVER AFTER A WALK AROUND THE VILLAGE